About Caroll Simcox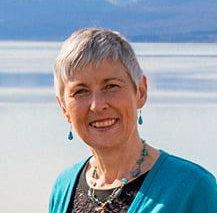 ​As a licensed marriage celebrant Caroll loves to create special memories for couples choosing to get married in the unique and stunning Lake Tekapo area.
Caroll likes to meet with couples prior to their wedding to assist them in creating a truly special service that reflects their individuality and uniqueness. She has a cheerful relaxed manner and is happy to offer suggestions to help you create the style of ceremony you prefer. In these gorgeous mountains you may be inspired to write your own words to express your love for each other!
Modern technology makes it easy to put together all the details for those travelling to Lake Tekapo from afar. Caroll can advise on the local and national requirements for a marriage ceremony in New Zealand and also help with other essential parts of the service such as witnesses and suggesting ideal spots in or around Lake Tekapo for your ceremony.
Getting Married at Lake Tekapo
Marriage celebrants may conduct weddings anywhere in New Zealand and there are many lovely locations around Lake Tekapo to choose from.
However only ordained clergy may conduct weddings inside the Church of the Good Shepherd. If you wish to be married in the Church please contact Adele Coleman, Administrator of the Mackenzie Parish for all the information you will need. The current Minister for the Mackenzie Parish is Reverend Daniel Yeazel who loves a good church wedding!
If you would like some help to plan your special day please check out our local collective Simply Tekapo Weddings on Facebook for a list of helpful suppliers.
When and How to Apply for a Marriage Licence
You will need to get a marriage licence from a Registrar of Marriages. To apply for a marriage licence one of the parties to the marriage must fill out the appropriate form. You can do this online. https://www.govt.nz/browse/family-and-whanau/getting-married/get-a-marriage-licence/
Marriage licences are valid for three months from the date of issue. During that period you are free to marry at the place specified on the marriage licence. An alternative place of marriage may be specified on the licence, e.g., in case of bad weather.
You will need to bring your Marriage License and your two Copies of Particulars to me, your celebrant, before the wedding.